The main protection aim of the Luitemaa Nature Reserve is to protect the coastal and natural landscape of Southwest Estonia. The nature reserve was founded in the year 2000 with an area of 11,301.3 ha.
The dunes of Rannametsa are the shoreline from the period of the Litoriina Sea dating back 5,000 years. The highest dunes of Estonia are located here: Tõotusemägi Hill (29 m) and Tornimägi/Sõjamägi Hill (34 m). The dunes of Rannametsa have been chosen as the natural symbol of Pärnu County.
The Tolkuse Bog that dates back 8,000 years is very noteworthy. The thickness of the peat layer is 5 metres, whereas the annual growth is 1.6–1.9 mm, which is an unprecedentedly large growth in the Estonian conditions.
The valuable communities of the nature reserve are the coastal meadows that are being maintained in the reserve on an area of more than 600 ha. Luitemaa coastal meadows are a stop-over place during migration for nearly 15,000 barnacle geese and 3,000 greater white-fronted and bean geese.
One of the largest habitats of the Turkish marsh gladiolus in Europe is in the reserve. The only known habitat of the perennial honesty beyond the limestone cliff of Northern Estonia is here.
The most noteworthy protected animal species are the wood grouse, black stork, Eurasian eagle-owl, boreal owl, common kingfisher, natterjack toad and sand lizard.
Luitemaa Nature Reserve has received international recognition. The reserve is a wetland of international importance (Ramsar area), belongs to the Natura 2000 network of natural and bird areas and is an internationally important bird area (IBA) due to the abundance of migratory birds.
The manager of the Luitemaa Nature Reserve is the Environmental Board.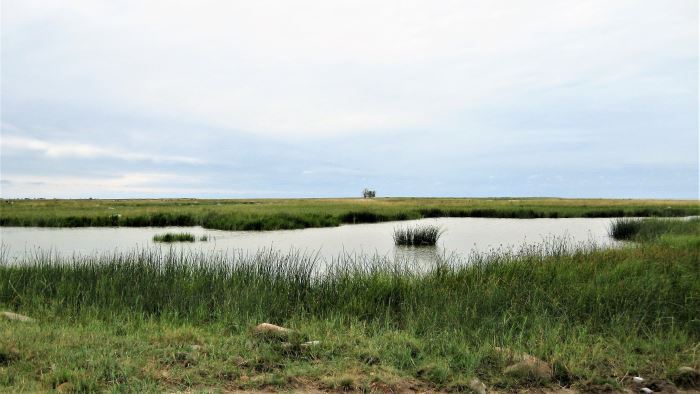 Võiste coastal meadow. Photo by Merike Palginõmm